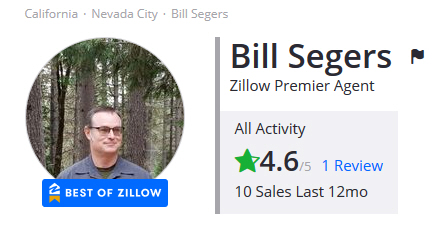 Call (530) 615-7900 or
Email now billsegers@gmail.com
01734838 (CA)
My clients tell me I'm knowledgeable, fun, professional and a good communicator. Real Estate transactions can be a very stressful experience. Buyers and Sellers have enough to work on with moving, packing, and relocating to a new space. I enjoy helping my clients with the planning and all the activities that need to happen so that they can enjoy what they love to do.
Professional Experience:
• Real Estate – 12 years
• Mortgage Broker – 2 years
• Sales and Marketing 8 years
• Software Engineering – 7 years
Volunteer Experience:
• Broadcaster for KVMR Radio
• Nevada Union High School Mountain Bike Team
Sample Drone Videos of Prior Property Listings:

from Bill Segers on Vimeo
Selected Homes and Land Properties Bill has listed: