Lake Front Real Estate Properties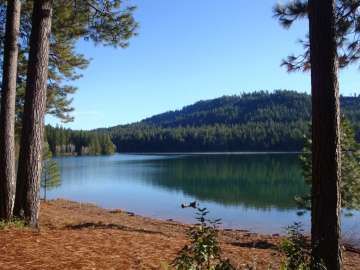 What do Scotts Flatt Lake – Cascade Shores, Rollins Lake – Chicago Park, Alta Sierra, Lake of the Pines, and Lake Wildwood have in common? They offer beautiful lake front real estate and lake access land and home properties that attract both full and part time residents to Nevada County. Checkout lake front and lake access homes for sale.
Scotts Flat Lake and Cascade Shores
Check our Scotts Flat Lake map for available Nevada City recreation properties today. No one knows the recreation properties around Nevada City and Grass Valley better than us. We live the lure of lake front living in Nevada City. Let us show you what inspired John to create Recreation Realty at the junction of Highway 20 and Scotts Flat Road in the early 1970's.
Located only a few miles north of Nevada City, Scotts Flat Lake offers beautiful lakefront recreation living including year round boating and water sports. Scotts Flat Lake is situated among the tall pines accessible via Highway 20 and Scotts Flat Road from the west. The Cascade Shores community is located on eastern shores and is accessible from Nevada City via Red Dog and Quaker Hill Roads.
Sailing, water skiing, fishing, swimming, canoeing, and kayaking are all popular at the lake. Enjoy entertaining yourself and friend with sunset cruises on your party barge or a relaxing morning swim!
Beautiful wooded hills surrounding the lake afford spectacular views of the lake. Whether you are looking for a vacation home or a permanent residence, enjoy relaxed resort living in the Scotts Flat Recreation Area.
At 3,000 feet, you will experience the full delight of the changing Sierra seasons. Winters are mild with occasional snow. With the rolling hills, you can toboggan or cross country ski from your doorstep. Spring brings abundant wild flowers and the delight of new baby animals. With summer the lake comes alive until vibrant autumn leaves create a brilliant array of color.
Lake Front Real Estate around Rollins Lake
Beautiful Rollins Lake in Chicago Park near Grass Valley offers great fishing and boating of all types. Rollins lake is at an elevation of 2,100 feet and has a surface area of 900 acres, with 26 miles of shoreline. Its many coves and long stretches of open water make it great lake for sailing and water-skiing. Fishing is good from boat or shore for a wide variety of trout and warm water species.
Access to Interstate 80 and the greater Sacramento area is a quick drive away and makes the Rollins Lake, Chicago Park, and Orchard Springs area attractive for commuters.
Also serving Lake of the Pines, and Lake Wildwood for lake front real estate

For more details visit Lake of the Pines real estate properties
and Lake Wildwood real estate properties.
And call us at 530 265-6565 to discuss your specific lake front real estate and recreation properties interests.
Want to know more about other local areas for living in Grass Valley, Nevada City and Nevada County California
Nevada City real estate properties
Grass Valley real estate properties
Nevada County real estate properties
Living in Nevada County California
Western Nevada County Lake Area Homes