Nevada City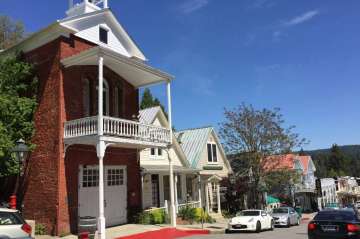 Nevada City, once known as the Northern Queen of the California gold rush country, is one of the most beautifully preserved towns in the US. Nevada City's downtown historic district is listed on the National Register of Historic Places. A small town of 3,000 people, Nevada City is located on Highway 49 an hour north of Sacramento and southeast of Lake Tahoe. Nevada City CA real estate properties in the historic district include grandly restored Victorians-perfect for a single family or B&B and new modern homes.
Here are all the current Real Estate MLS listings in Nevada City CA. Feel free to browse but a short 10 minute phone call might help narrow your search down much quicker.
Nevada City CA real estate – Residential
Nevada City real estate properties within the historic district include many grandly restored Victorians – perfect for a single family or B&B. Nestled on seven hills with the meandering Deer Creek running through its center, Nevada City offers a lovely blend of old and new.
Nevada City neighborhoods include newer modern as well as rustic homes, farms, horse properties, condominiums, and townhomes. Many homes and properties have majestic views of the beautiful South Yuba River canyon, meandering Deer Creek, and other local mountain streams as well as Scotts Flat Lake and other smaller lakes.
Nevada City CA real estate – Commercial
Commercial properties are located in the historic downtown district, Seven Hills Business District, or Gold Flat area. Properties range from renovated shops, offices, and Victorians in the historic district to modern new engineering, manufacturing and professional buildings in the new Nevada City Tech Center.
Nevada City Arts and Theater
Nevada City boasts a vibrant arts and entertainment community. Nevada City is home to multiple active theater groups that regularly attract renowned local and visiting talent. The historic Miners Foundry Cultural Center hosts events, concerts, and weddings year round. The Nevada Theater, California's oldest original-use theater, hosts productions by Foothill Theater Group, Community Asian Theatre of the Sierra ("CATS"), and others as well as independent film productions. Off Broad Street, Sierra Stages, LeGacy Productions, Magic Theater and other venues contribute to the thriving local cultural experience.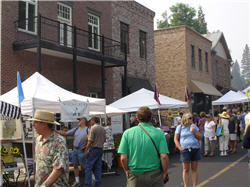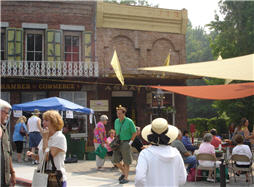 Saturday Morning Market in Nevada City – socialize and shop for local products!
Proud of its small town spirit, something is always going on in Nevada City … parades for holidays, Civil War reenactments, art shows, theater festivals, the annual Nevada City Classic bike, Warm Summer Nights, Victorian Christmas, and other And of course excellent restaurants offer a diverse mix of cuisines.
The Nevada City Chamber sponsors many of the local events.
Nevada City Sports and Recreation
For the outdoor enthusiasts, the rugged Sierra Foothills with tumbling mountain streams and beautiful lakes provide for hiking, biking, horse back riding, boating, sailing, swimming, kayaking, and water skiing.
When winter snows blanket the higher elevations, many people cross country ski and toboggan across their property. A variety of world renowned Alpine ski and snowboarding slopes are within an hours drive.
Nevada City Schools and Education
The diverse business and engineering companies in the area depend on a highly trained and educated workforce. Nevada City School District including Nevada Union High School and Nevada County schools rank among the top in the State of California. Families can choose an ideal learning environment for their children from a variety of traditional public schools, multiple charter schools, and alternative programs for at-risk and gifted students.
Near by Sierra Community College Nevada County Campus offers a selection of Associate Degree and certificate programs as well as a variety of non-credit adult education programs. Sierra College is home to the Ghidotti Early College High School program for advanced students.
Want to know more about Nevada County California real estate properties?
Grass Valley real estate properties
Nevada County real estate properties
Living in Nevada County California
Call us 530 265-6565 to discuss Nevada City CA real estate properties and more.
Nevada City Homes for Sale