John as a Child Actor in the 1950's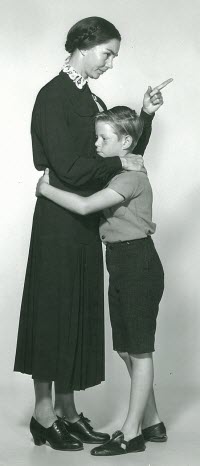 Ever wonder what happened to child actors many of us knew as children ourselves?  One is our own John Hensley.
John was recently reminded of his childhood acting days with the passing of Jennifer Jones.  He starred with her in the movie Good Morning Miss Dove. John played a youngster from the slums whom Miss Dove (Jennifer Jones) has helped mould into a citizen with a fine sense of ethics".  How many of us can claim Jennifer Jones moulded our sense of ethics? Chuck Conners played John's role as an adult in the movie.  It was Conners' first movie after having been a baseball star.  Robert Stack was also in Good Morning Miss Dove.
John's career started on the Lorretta Young Show and ended seven years later with a pilot episode on the Donna Reed Show. John also played in the beloved Lassie the first year that Timmy took over for Jeff. Cloris Leachman played Timmy's mother and Jon Provost played Timmy.  As adults, John and Jon reconnected and became close friends.  They have been friends for over 20 years.
John's acting career included roles in movies and television shows such as Wild Bill Hickok, Dupont Cavalcade of America, Life of Riley, Dragnet, Sherrif of Cochise, The Split Level Family, Stepmother,  The Millionaire, and others.  Because Stepmother was the true story of Abraham Lincoln, it was replayed every year on Mother's Day for 20 years.
He was in many commercials including Kelloggs, Dupont, Tide, Heinz, and of course, Pillsbury who sponsored the M-I-C-K-E-Y M-O-U-S-E Mickey Mouse Club Show. And it was none-other-than Walt Disney himself who introduced John to Annette Funicello when he was doing Pillsbury commercials for the Mickey Mouse Club.  But that is a story all its own for John to tell!
John was chosen to play the lead in the Tom Sawyer television series but the series was never funded. John retired after three weeks of pilot films opposite Shelley Fabares, Carl Betz and Donna Reed on the Donna Reed Show. He came in second to Paul Peterson.
John says "I have never had any regrets, as I took the money I made & bought a thousand acre ranch in Northern Santa Barbara County and became a country boy."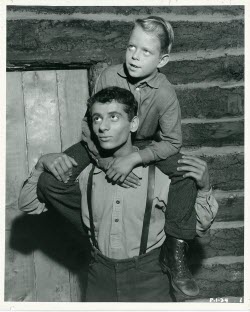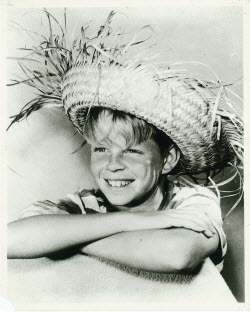 In Stepmother with Ronnie Lee as Abe Lincoln                       As Tom Sawyer