Nevada County California real estate properties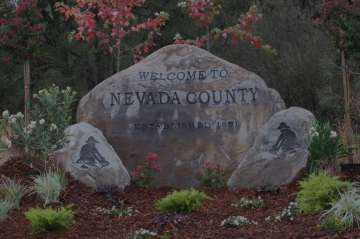 Located in the beautiful Northern Sierra Foothills, Nevada County savors its rich legacy from the California gold rush. The cities of Grass Valley, Nevada City, Rough & Ready and Truckee offer a walk back in time. MLS real estate properties include stately Victorian houses for that perfect home or office. Many of the Victorian mansions that were home to mining executives have been converted into quaint B&B's catering to a robust tourist industry. The variety of homes and settings is what makes Nevada County California real estate properties so special.
But time has not stood still. Today's residential properties include modern homes in gated or planned developments, new rustic homes nestled among the forests, condominiums and townhomes, as well as smaller family homes. The area also boasts excellent planned retirement communities catering to a range of special needs.
Nevada County is home to a diverse business and electronics industry. Commercial properties include modern new medical and business complexes as well as quaint shops and office spaces in the historic districts. Real estate in the outlying areas include agricultural farm, ranch and horse properties. Excellent soil and climate conditions support a growing wine industry with award winning wineries. The area is rapidly gaining a new reputation as California's "other wine country".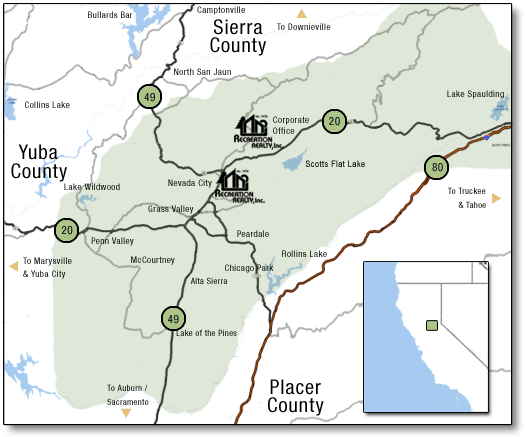 Grass Valley and Nevada City are located in Western Nevada County and are within driving distance to Sacramento, Reno and Tahoe.
Other communities we serve include:
Penn Valley melds tranquil family living, small town flavor, and agriculture. Ten miles west of Grass Valley, Penn Valley is an equestrian's delight.
Lake Wildwood is a gated community of over 2,800 homes and a private, 18-hole champion golf course. Lake Wildwood is just a few minutes from Penn Valley.
Rough & Ready is famous for its 1850 succession from the Union. Just a few miles west of Grass Valley, Rough & Ready retains a special charm and local comradery.
Alta Sierra is a beautiful planned community a few miles south of Grass Valley complete with 18-hole golf course set among pines and black oaks.
Lake of the Pines, a planned community in Southern Nevada County boasts a 19 hole golf course, lake, marina, tennis courts and other amenities. At 1500' Lake of the Pines is below the snow line.
North San Juan is an historic hydraulic gold mining town on Hwy 49 northeast of Nevada City.

Peardale is an unincorporated agriculture and residential community east of Grass Valley. Peardale is home to probably the first rancher in the area.

Chicago Park, east of Grass Valley, is on the shores of Rollins Lake – great for camping, boating and fishing.
Scotts Flat Lake, north east of Nevada City, is a popular boating, fishing, and camping destination. At an elevation of 3,00 Scotts Flat Lake is at the gateway to Tahoe National Forest and the Sierra high country.
The surrounding Sierra high country from Nevada City through the Tahoe National Forest area to Truckee offers magnificent views with mazes of spring wild flowers, inviting summer retreats, brilliant fall colors and a winter wonderland for world renowned Nordic and Alpine skiing, snowboarding, and cozying around warm winter fires.
The quality of life in Nevada County attracts a wide spectrum of people. Artists, writers, musicians, families, retirees, small business people and high-tech entrepreneurs call this rural community home.
Whatever your interests or dreams, Nevada County is a great place to raise a family, operate a business, or enjoy your retirement years!
We also serve the adjacent communities of East Yuba County including Smartsville, Loma Rica, Browns Valley, and Beale Air Force Base.
Want to know more about Nevada County California real estate properties?

Nevada City real estate properties
Grass Valley real estate properties
Nevada County real estate properties
Living in Nevada County California
Nevada County Homes for Sale