* Contact John at 530 265-6565 for a tour of KVMR's new building! *
John Hensley is an active member of our Western Nevada County Community. In addition to being an active Rotarian with Nevada City Rotary, John is a KVMR Lifetime Member and served a 5 year term as Member of the Board of Directors for KVMR 89.5 and 105.1 FM radio in Nevada City.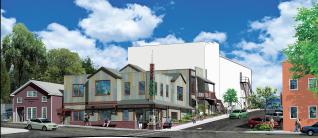 As KVMR Board Member, John is proud to have served on the building committee for KVMR's new station and the expanded backstage of the Nevada Theatre. In addition to new office and state of the art studios for KVMR, the new facility provides 1,200 square feet of back stage for the Nevada Theater and live radio concert capability.
KVMR has moved into its new building.  Contact John at 530 265-6565 for a personal tour of the new facility.
If you would like to contribute to the capital campaign for the building project, contact John or KVMR.  Naming opportunities for rooms in the new station are available and additional capital funds are needed.KVMR is proud to provide "Music of the World – Voice of the Community" broadcasting as 89.5 and 105.1 from Nevada City, CA.